June 6th, 2008, by Francesca
My restaurant review for this term is coming up in week or so and last Friday night we decided to use our weekly outing to go to Briganti, an Italian restaurant in South Pasadena. We had only been there once before for a birthday celebration. Briganti is a little more expensive than our habitual places, but it serves authentic Italian dishes, something a lot less common that you'd think in our neighborhood.
At least half the waiters are Italian and I like that. It always bothers me when I go to a supposedly Italian restaurant and the waiter can't even pronounce the dishes properly. It's also a matter of ambiance and regardless of whether I can understand a language, I prefer the staff to match the cuisine. Mexican waiters in Chinese restaurants bother me just as much as forks in lieu of chopsticks. I want the whole package, from music to decor to utensils, thank you very much.
Ben is much easier to please, as long as there's at least one chicken item on the menu. :D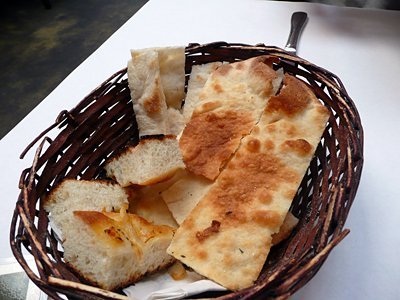 We walked in without reservations – we hardly ever go to restaurants that require that kind of planning – and we met with a little bit of attitude considering that it was early and half the tables were empty. Or maybe it's just my perception… I don't like it when people play hard to get.
But once seated and with a bread basket in front of us, all was well.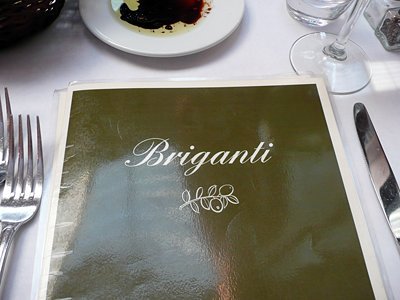 The menu had some very attractive items.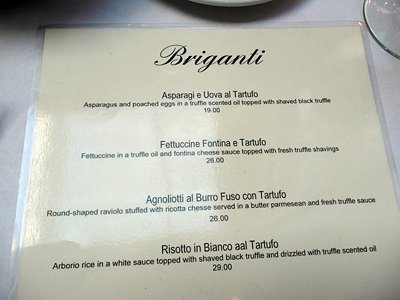 Too bad about the mispellings.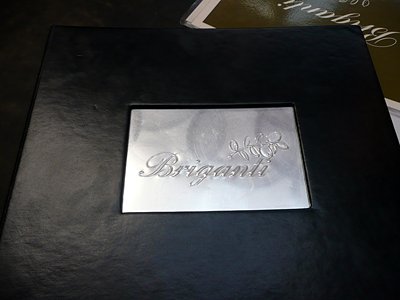 From the wine menu we chose a half bottle of Chianti that we both enjoyed very much.
My experience with half bottles is limited and this was my first encounter with a bottle as tall as a regular 750 ml bottle, but thinner.
Here's Ben demonstrating just how narrow the bottle is.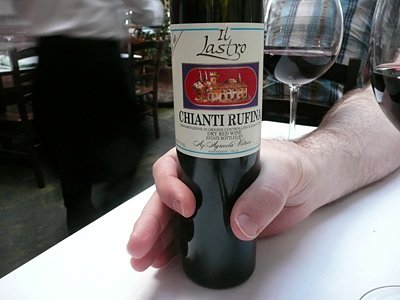 Our first dish was a bruschetta that looked very colorful and appetizing, but tasted rather bland and with over-toasted bread.
Ben's pizza was very good, thin and crisp with just enough toppings but not too much. We Italians like to actually taste the pizza in addition to the toppings. It's all about balancing the bread and the condiments.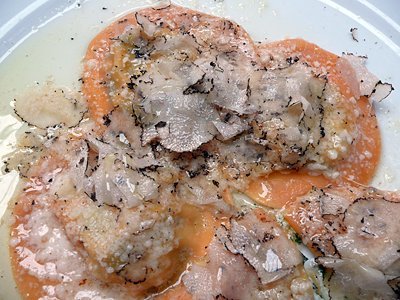 I splurged and went for the agnolotti al burro e tartufo. It was only tartufo nero (black truffle) but still very good. White truffle would have been out of our range and it's not in season anyway. Our chefs encourage us to save enough to be able to experience good restaurants and fine dishes every now and then and I couldn't agree more. When Chef Gore mentioned truffle in class last term, most of the students (maybe all) thought she was talking about chocolate truffles!
Hm, digressing again… the agnolotti were highly satisfying. Cooked perfectly al dente and served with melted butter, flavorful Parmesan cheese and just the right dose of truffle shavings. Yes, paper thin shavings, but you don't need a lot of tartufo to turn a good dish into something special. The dish cost $26 and didn't take long to obliterate, but it was worth every penny.
We don't usually get dessert but this time we got two: panna cotta…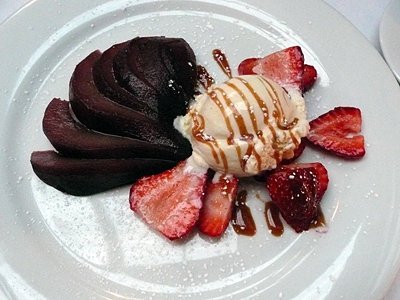 and pere al vino rosso (poached pears in red wine).
Unfortunately the pears contained cinnamon and I couldn't share them with Ben (I'm allergic to cinnamon). Not a problem, though, because I was very happy with my panna cotta.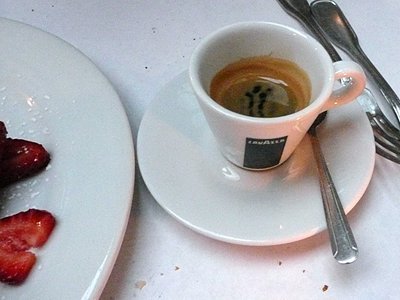 And to end properly, an espresso ristretto.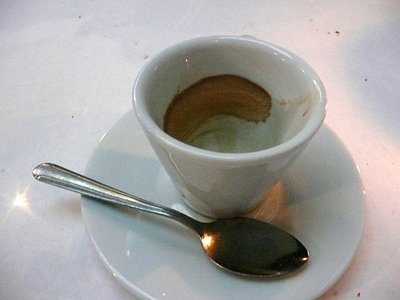 By then, the light was changing and the atmosphere with it. I love dusk and the colors it throws onto things.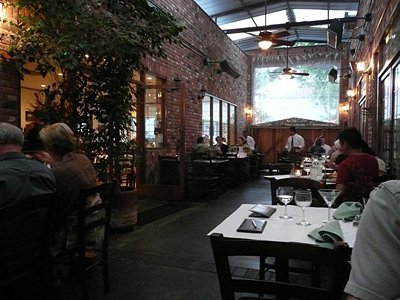 Briganti is not a restaurant we can patronize on a regular basis, but we will be back.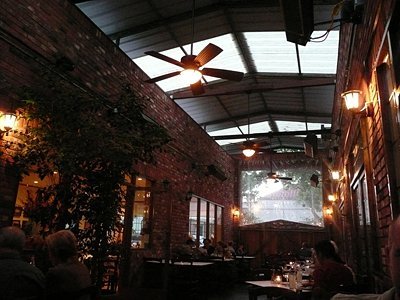 Alla prossima! (to the next time)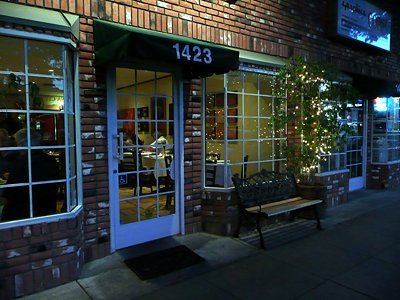 May 19th, 2008, by Francesca
Friday night we celebrated the end of my first term by going out to dinner and, in true LA style, we ate Cuban in Little Tokyo. Gotta love LA… where else could we do that?
Before dinner, we stopped at Kinokuniya to indulge my love of all things Japanese. A girl's gotta have just the right school supplies, don't you agree?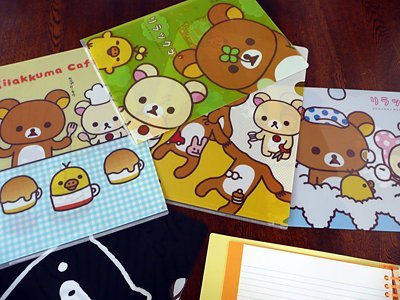 I always need refills for my favorite quaderno (notebook). I love the way this spine opens.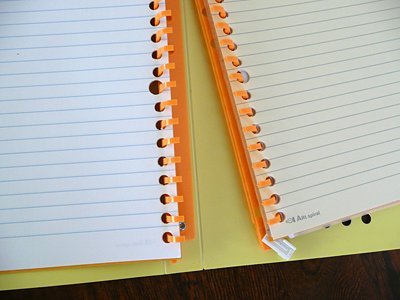 I also got a new, smaller notebook. Even though all our school handouts are in US 8.5" x 11" format, I like to take my notes on smaller paper.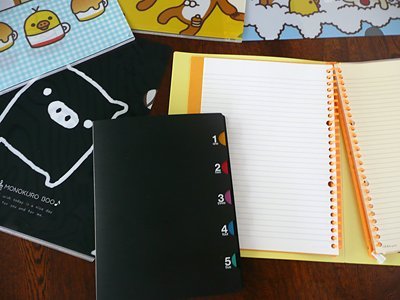 After an uneventful dinner at Cuban Central (tiny, anemic and overpriced drinks and okay food), we noticed the signs of another restaurant from the parking lot. Three languages in one sign: English, Spanish and faux Japanese.
The writing in katakana is a clumsy phonetic transcription of English words that reads roughly: Mekishikan shiifuudo & baa. I'm guessing it means Mexican Seafood and Bar. Maybe we'll decide to live dangerously and try it out next time.
April 27th, 2008, by Francesca
The best part of my homework this weekend was dining out to write a 500-word restaurant review – that sure beats studying sanitation – so off I went with Ben to
El Cholo Cafe
, a Mexican restaurant in South Pasadena.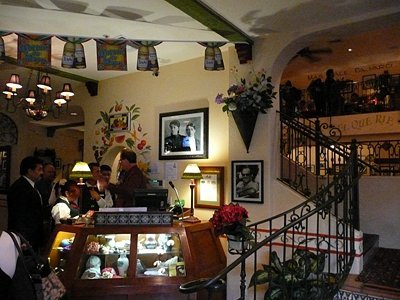 I like the multi-level arrangements of the various rooms, and the variety of settings: long tables in the fireplace room, small tables, booths – large and small – a balcony overlooking an indoor court, and the outdoor patio.
The receptionist was the only non-Mexican looking person on staff and the only one not wearing traditional clothes. Everyone else looks and sounds the part, although for all I know they could be from Salvador or Puerto Rico and I wouldn't know the difference. My friend Jorge from Tijuana used to tell me how Hollywood keeps employing Puertoricans, Cubans and all sorts of central and south american actors to play Mexicans in movies.
Every time we've been at El Cholo on a weekend evening, a Mariachi band in full costume regalia was playing typical Mexican songs. The music is fun and I prefer music that goes with the place and the food to 80's American pop, although the trumpet is really too loud and makes conversation impossible when the players are close to your table.
This band includes two guitars, a trumpet and a fiddler, and the trumpet player doubles up as solo singer.
This time we were seated at a tiny booth, with a full view of the kitchen, featuring a prominent trash can.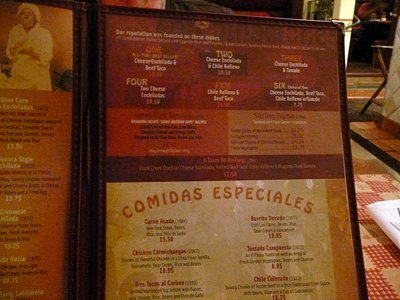 The menu is in a good looking color scheme that fits the décor, but its design and typographic style gets in the way of reading; some items recede in the background and are hard to find (where the heck are the fajitas?).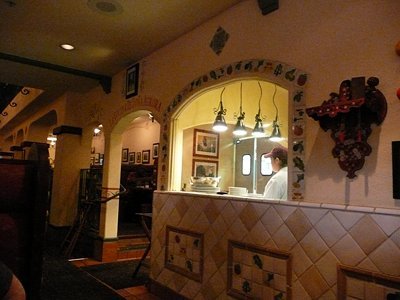 The decór has more flair than the larger Mexican restaurant chains such as El Torito and Acapulco. I particularly like the old photos and the sense of history that comes at you from the walls, the partitions and everywhere around.
The phrases and saying in Spanish painted on arches and other surfaces close to the ceiling add another touch to the ambiance. Some are quite funny, as "No llores, hay mas peces en el mar" (don't cry, there's more fish in the sea).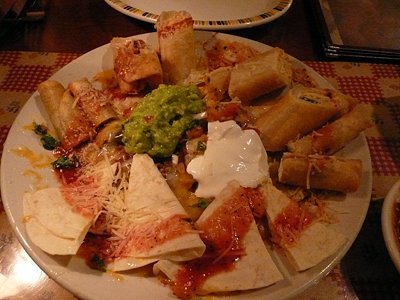 Our first dish was a fiesta platter with chicken chimichangas, crab and beef taquitos, quesadillas, and some nachos hiding under the guacamole and the sour cream.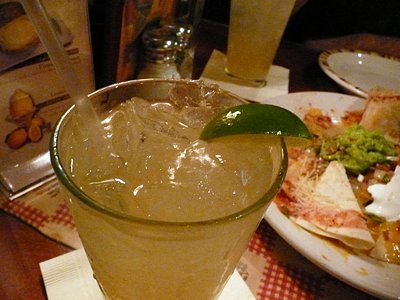 Margaritas are de rigueur and we had a house margarita and a Cadillac (a regular margarita with a shot of Grand Marnier). Both excellent.
Next, a chicken fajita and a tostadita salad. The chicken fajita comes sizzling in a typical cast iron skillet set on a wooden board.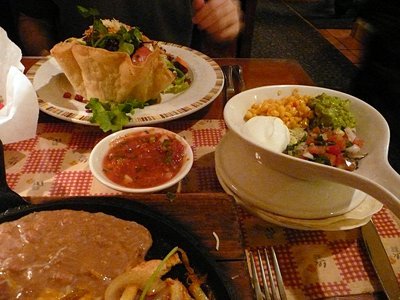 Instead of the unattractive plastic containers used in most Mexican restaurants, our flour tortillas were served between two plates. I liked that.
Both the tostadita and the chicken fajita included tomato pieces that were, surprisingly, blanched and peeled. Not the level of care and attention to detail I have come to expect from the Mexican restaurants we usually frequent. That was really a nice touch.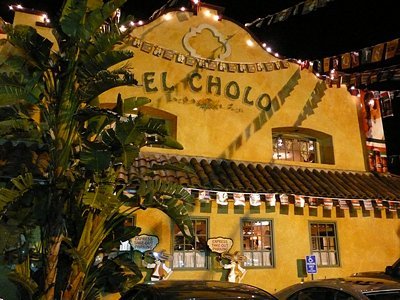 More dinners will certainly be had at El Cholo Cafe.
And now I'd better go write those 500 words for my class assignment, where I'll have to concentrate on the food and critique aspects such as use of salt, consistency, temperature, plating, and so on. But all this talk of food has made me hungry… breakfast first!