September 26th, 2008, by Francesca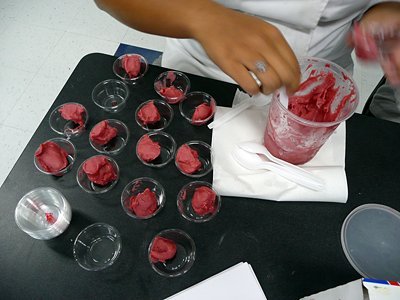 As part of my nutrition class I had a cooking project, the only one in the past six weeks given that I've been on an academic term. The project was to take a recipe and prepare two versions of it: a regular batch and one with either reduced fat+salt or reduced fat+sugar.
We worked in small groups and my team worked on two versions of biscotti alla nocciola. Our biscuits and this group's sherbet were the most successful projects. Too bad I forgot to take pictures until the last minute, when all our cookies had been wiped out.
The requirements were to reduce the overall fat and sugar content by at least 25% and make the items look and taste like the original recipe. Not an easy task, as we soon found out.
I took care of research and experimenting with the formula and made the first two batches at home. For the modified version, I switched from European to American butter (slightly less fat), reduced the amount of butter and added an egg white to help keep the dough together. The biscuits came out too hard and dry and I showed them to my math instructor, a French chef who is really into baking. He tried them and suggested using unsweetened apple sauce to the dough to add back some softness. This required some additional fudging with the ingredients' ratios because the apple sauce, though unsweetened, increased the sugar content. But it all worked out in the end.
My team members prepared the production batches for class using the apple sauce and no egg white. The trick worked beautifully and our class mates were divided almost exactly in half when they had to tell the cookies apart. I was really happy with the result because we met all the requirements of the project without resorting to artificial sweeteners, as other teams did. The savory projects were not very successful and it was really obvious which batches had reduced fat and salt. It was definitely an interesting assignment.