August 24th, 2008, by Francesca
My last bread workshop last term was about brioche and my favorite version was brioche Modane, so last night I prepared the dough, let it ferment, punched it down and refrigerated overnight and today I made two brioches Modane.
Along the way I made a few mistakes, but the pastry gods took pity on me and the brioches came out smelling and tasting awesome, regardless of poor shaping and the near explosion of one.
I am not 100% sure, but I suspect that overproofing may be the cause. At first I blamed the agressive scoring, but after baking the second Modane – scored more conservatively – it became evident that it still puffed up too much.
Proofing is still a bit of a mystery to me and I am never quite sure when something is right for the oven.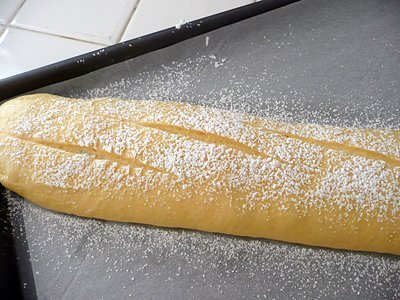 I may have left the second brioche in the oven too long. We haven't cut it yet, so I'll find out when I slices it for the freezer. In any case, I love the taste and smell of it. The golden raisins soaked in Grand Marnier and the darker raisins soaked in Brandy really add to the aroma and overall flavor. Booze… such a wonderful thing.