August 18th, 2008, by Francesca
If I could save only one kind of nut from extinction, it would be hazelnuts, and I wouldn't even have to think about it. I've never met a hazelnut I didn't like, period. They can come in any form, hiding in mashed potatoes, crusted around a trout, homogenized in gelato, as the main ingredient in biscotti and cakes… I love them all.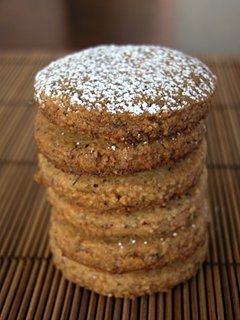 So when I saw a recipe for hazelnut biscotti on one of the food blogs I check more or less regularly (Fior di zucca), I had to try it. The recipe is super easy, conveniently given both in English and Italian, and the biscottini came out fragrant and delicious.
I replaced the whole hazelnuts with hazelnut meal, since I had it handy, but that shouldn't make any difference since the recipe calls for grinding hazelnuts. The only real difference is that they should be peeled and my hazelnut meal includes ground skin. Those of you who've been around here for a while, know that I like rustic dishes more than super-licked "creations" and won't be surprised that I actually prefer this version. Hey, does that count as fiber?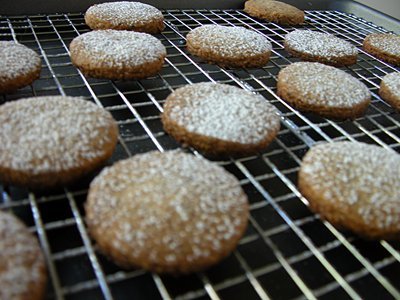 I still haven't decided if I prefer the biscotti with or without powdered sugar.
By the way, anybody has suggestions on how to store biscotti (cookies)?