June 6th, 2008, by Francesca
My restaurant review for this term is coming up in week or so and last Friday night we decided to use our weekly outing to go to Briganti, an Italian restaurant in South Pasadena. We had only been there once before for a birthday celebration. Briganti is a little more expensive than our habitual places, but it serves authentic Italian dishes, something a lot less common that you'd think in our neighborhood.
At least half the waiters are Italian and I like that. It always bothers me when I go to a supposedly Italian restaurant and the waiter can't even pronounce the dishes properly. It's also a matter of ambiance and regardless of whether I can understand a language, I prefer the staff to match the cuisine. Mexican waiters in Chinese restaurants bother me just as much as forks in lieu of chopsticks. I want the whole package, from music to decor to utensils, thank you very much.
Ben is much easier to please, as long as there's at least one chicken item on the menu. :D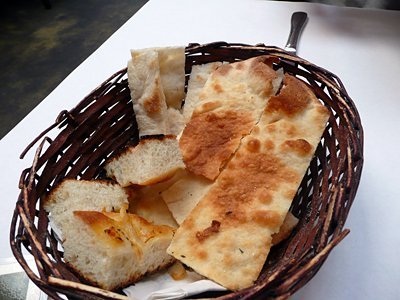 We walked in without reservations – we hardly ever go to restaurants that require that kind of planning – and we met with a little bit of attitude considering that it was early and half the tables were empty. Or maybe it's just my perception… I don't like it when people play hard to get.
But once seated and with a bread basket in front of us, all was well.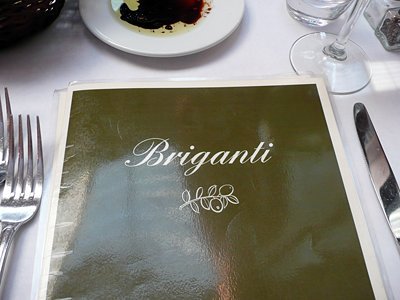 The menu had some very attractive items.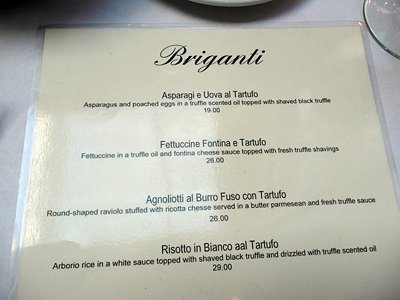 Too bad about the mispellings.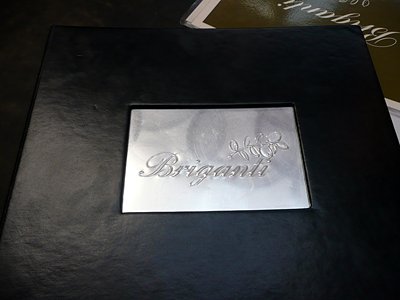 From the wine menu we chose a half bottle of Chianti that we both enjoyed very much.
My experience with half bottles is limited and this was my first encounter with a bottle as tall as a regular 750 ml bottle, but thinner.
Here's Ben demonstrating just how narrow the bottle is.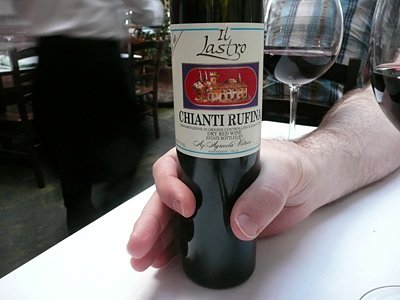 Our first dish was a bruschetta that looked very colorful and appetizing, but tasted rather bland and with over-toasted bread.
Ben's pizza was very good, thin and crisp with just enough toppings but not too much. We Italians like to actually taste the pizza in addition to the toppings. It's all about balancing the bread and the condiments.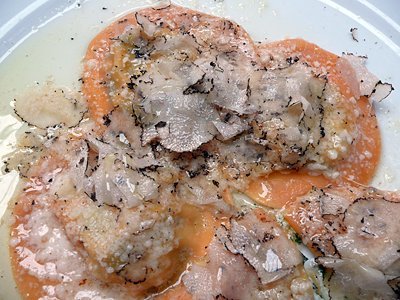 I splurged and went for the agnolotti al burro e tartufo. It was only tartufo nero (black truffle) but still very good. White truffle would have been out of our range and it's not in season anyway. Our chefs encourage us to save enough to be able to experience good restaurants and fine dishes every now and then and I couldn't agree more. When Chef Gore mentioned truffle in class last term, most of the students (maybe all) thought she was talking about chocolate truffles!
Hm, digressing again… the agnolotti were highly satisfying. Cooked perfectly al dente and served with melted butter, flavorful Parmesan cheese and just the right dose of truffle shavings. Yes, paper thin shavings, but you don't need a lot of tartufo to turn a good dish into something special. The dish cost $26 and didn't take long to obliterate, but it was worth every penny.
We don't usually get dessert but this time we got two: panna cotta…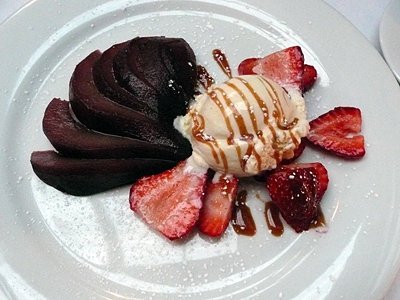 and pere al vino rosso (poached pears in red wine).
Unfortunately the pears contained cinnamon and I couldn't share them with Ben (I'm allergic to cinnamon). Not a problem, though, because I was very happy with my panna cotta.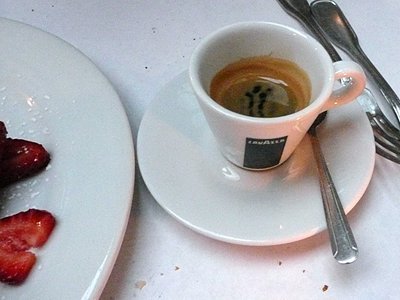 And to end properly, an espresso ristretto.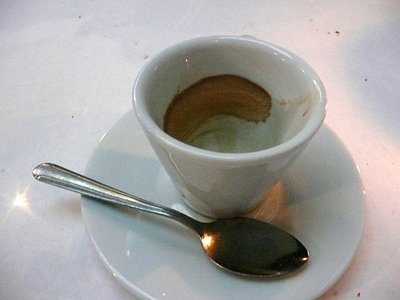 By then, the light was changing and the atmosphere with it. I love dusk and the colors it throws onto things.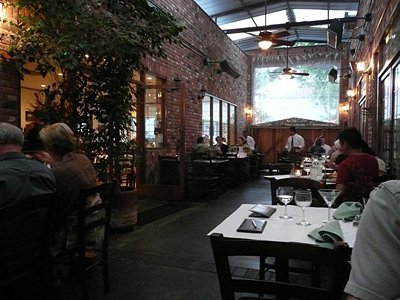 Briganti is not a restaurant we can patronize on a regular basis, but we will be back.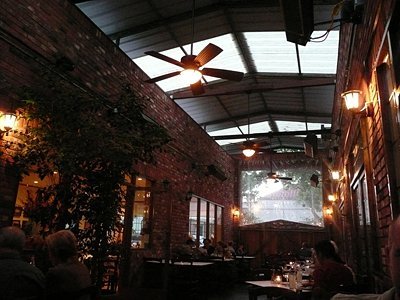 Alla prossima! (to the next time)