June 20th, 2008, by Francesca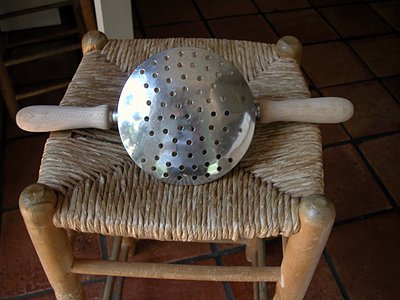 Remember the dish I picked for my interpretation of Chicken Noodle Soup a few weeks ago? That was passatelli in brodo, a typical broth dish from Romagna, more specifically from Lugo di Romagna, a small town near Faenza, where I spent most of my time growing up. I love passatelli in brodo. It's a winter dish, but if I get a twinge of homesickness or food nostalgia, I don't care what time of year it is. Call it comfort food or whatever; it's the kind of thing that just makes me feel better.
I know most of my readers are in the northern hemisphere, but at least a couple are down under (hi, Steve and Gaby!) so this might be a timely recipe for them and the rest of you can just file it away for next winter.
If it weren't for the liquid/puréed diet I am on for another couple of days, I would not have made passatelli on a day like this: 106ºF (41ºC). Yes, it's insane, but there's only so much yogurt and ice-cream I can eat in one day.
The strange looking thing in the photos above is the traditional tool used in Romagna to make passatelli, but…
a ricer like this one will do just fine.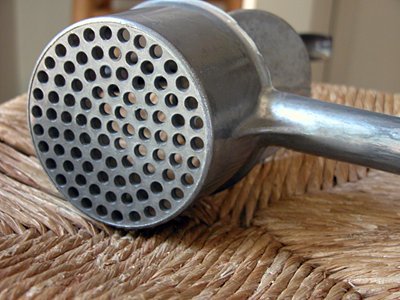 Ingredients (serves 4)
100 gr

Parmesan cheese, grated

100 gr

breadcrumbs, small

3

eggs

1 lt

chicken broth

30 gr

butter
nutmeg
salt
black pepper
lemon zest (optional)
In a bowl, mix the breadcrumbs and Parmesan cheese with the melted butter, the whole eggs, a pinch of nutmeg, a big pinch of salt, the ground black pepper and the lemon zest. I've only recently started to add the lemon zest and I like the brightness it brings to the dish. I go easy on lemon zest, pepper and nutmeg.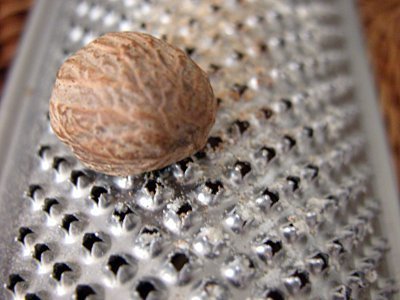 The mixture has to be rather stiff; if it's too soft, add more breadcrumbs and Parmesan. Mine was a little too stiff this time and my little worms broke too soon. Part of the problem was that I didn't have good breadcrumbs.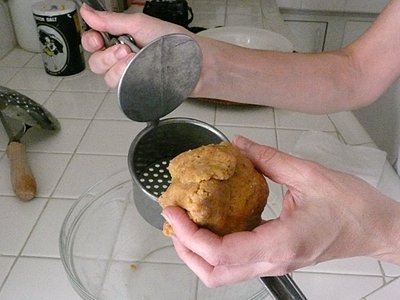 Pass the mixture through the ricer (it has to offer a good resistance) and cut the little "worms" when they are about 2 inches long. You could even do this over the boiling broth.
Bring the seasoned broth to boil in a pot, and drop the passatelli. They cook in less than 5 minutes. Serve immediately.
In the past few years, restaurants in Romagna have started to cook passatelli in broth and then drain them to serve them pasta-style with ragù or other condiments. I haven't tried them that way yet, so I don't have an opinion. Next time I go to Italy, I'll put that on my to do list.
By the way, this is a dish that really benefits from a good homemade broth, and the perfect broth for it would be brodo di cappone (capon broth) or brodo di manzo e gallina (beef and hen broth). Passatelli are one of several traditional Christmas dishes in Romagna, usually followed by bollito misto, mixed boiled meat and vegetables used to make the broth. I admit that I didn't make my own broth today and the dish suffered from that.
For those of you who like their broth super clear – consommè style – this may not be your cup of tea, as the passatelli tend to cloud the broth. Like most (all?) dishes from my beloved Romagna, this is a rustic plate.
Oh, one more thing… use the best Parmigiano you can find (Parmigiano Reggiano, freshly grated) and whatever bread you choose, please don't use sourdough or you'll make me cry.