May 22nd, 2008, by Francesca
The dishes this term are so much more fun. The pace has stepped up and the second day had me worried, but I think I'm starting to get the hang of this.
Some major differences between this term and the previous one:
In Intro 1 we had 2h 30' to 3h to prepare a certain number of dishes that we could present in any order during the entire time. Each item was sumbitted for review separately whether it was a pasta dish, a sauce or an omelette.
In Intro 2, each day we prepare two dishes made up of several components that get plated together and we have two windows in which to present them. This means that we have to hurry to serve the first dish while holding some items for the second dish. For instance, today we cooked a chicken noodle soup of our choice (presenting between 3:00 – 3:15 PM) and then duck suprème with sauce fines herbs, Brussel sprouts Brunoise, and Pommes Anna as a single dish (presenting 3:30 PM – 3:45 PM).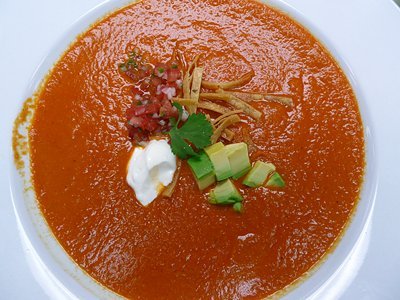 Yesterday's tortilla soup. It was REALLY good.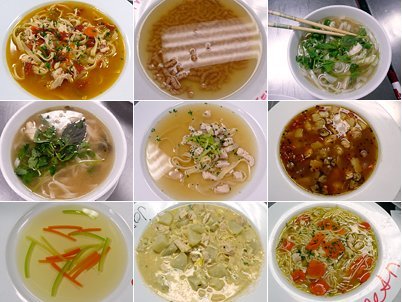 For today's open choice on the chicken noodle soup theme, I chose a regional soup from Romagna (my area). The dish is called
passatelli in brodo
and you can see it in position #2 in the combo image above.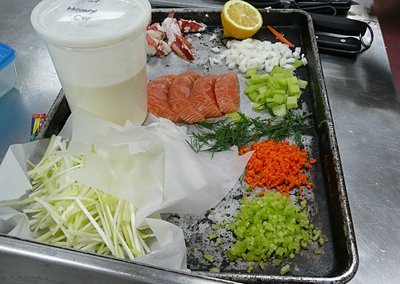 Our chef has been cooking for us at the end of the day. I love that. Our previous chef had been doing the same in Intro 1 but I still can't help feeling spoiled by it and invariably being surprised. While we students cook, we are so focused on our tasks and deadlines that I never notice what the chefs are doing. Today I noticed the mise en place on the chef's station only after I had already cleaned up all my dishes , pots and pans, cutting boards, etc. When I saw the lobster I didn't think it was for us.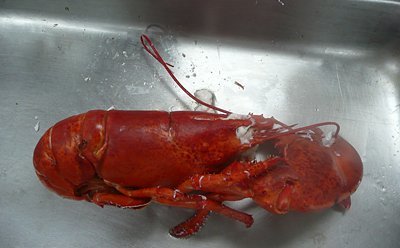 It was a marvellous dish and I had to restrain myself or there wouldn't have been any left for the rest of the class.
Tomorrow we'll be cooking coq au vin.