August 15th, 2008, by Francesca
When I started this blog, I meant to document as much as possible of my experience in culinary school. This term, between the lab module, the math class, putting together a monster notebook – no longer required but what's the point of investing this kind of money and energy if I don't do my best to preserve what I'm learning? – I didn't post much about school. So, here is a six-week retrospective for your viewing pleasure.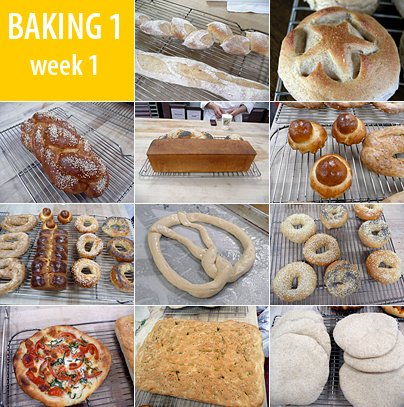 My favorite week.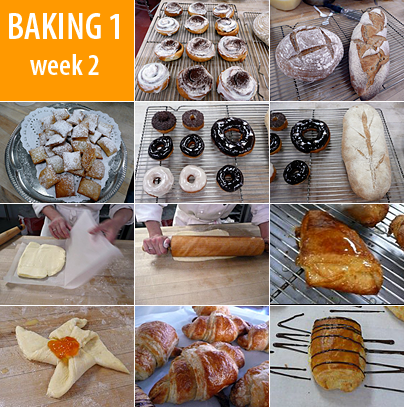 My other favorite week, if it weren't for the unbearable heat in the lab and the butter oozing out every which way from my laminated doughs. Still, everyone in our household loves croissants, and I stocked the freezer with individually wrapped Danish and croissants for many breakfasts to come.
Not a bad week, other than the whole day we dedicated to croquembouche. It was an exercise in frustration and for what? It's not like you can actually eat the damn thing; it's dry, sticky, unwieldy and I can see no purpose to it other than trying to impress someone with your pastry assembly skills. Not worth the effort; give me something I can sink my teeth into. The shrimp dish, on the other hand, was delicious, and the éclairs disappeared quicker than you can say "Pipie!" Choux pastry on its own is on the dry side, but fill it with cream and it's a whole 'nother story.
With the only caveat that all American desserts are way too sweet for an Italian palate, the pound cake, muffins and especially the fresh fruit tart were very satisfying.
A week of sugar and butter excess and over the top decoration. Oh, and pastel colors don't do it for me either.
The best part of Baking 1 – aside from the first week – was been able to take a few Saturday bread baking workshops. Bread… can you tell I'm really getting into it?
For the most part, each workshop dealt with something we had already baked in our Baking 1 class, but using entirely different recipes, working with different chefs and in a different lab on the main campus, as opposed to our baking facilities in South Pasadena. Lab 5 is the production kitchen for the school café and has some pretty spiffy equipment such as a walk-in rotating oven and a sheeter for laminated dough.
The chefs in the regular courses have no latitude in terms of modifying recipes and the recipes themselves are picked for didactical purposes, how they related to each other in a sequence to build up skills, etc. rather than for their individual virtues. Because of that, we end up using recipes that are not always the best. The workshops, on the other hand, have no such restrictions and every single product that came out of those Saturday afternoons was much better than those baked in class. We also benefited from the chefs preparing preferments ahead of time, and yes, you can make bread without them, but everything tastes better with a preferment. Or maybe they put some recreational drug in the flour, who knows…
By the way, Ben has a theory that pasta from Italy is more popular than pasta made outside of Italy because wheat in Italy grows in fields sprinkled with poppies. We have collected no scientific proof of addiction to Italian pasta so far, but you never know. :)
And now, off to school for my last day of this term. The menu today is deep cleaning and exit interviews.