August 13th, 2008, by Francesca
How do you like my telescopic fork?
It was a gift from a friend a while back (hey, Laura, where did you buy it? I'm getting requests) and I'd been waiting for the right occasion to use it. This is finals week for my Baking 1 class and today seemed just like the perfect time to do something silly; you know… stress and all that.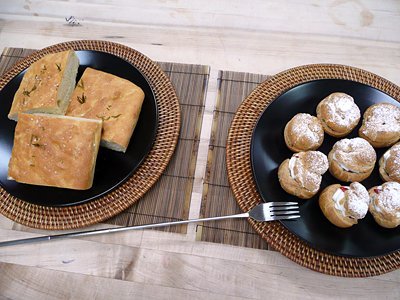 My menu for today was focaccia and cream puffs. I did good on the focaccia, at least from the locals' point of view. What they call focaccia here is similar to what we call spianata in Romagna, but our spianata is more flat. There is so much regional variation in Italian dishes that it's hard to tell what's what sometimes, and living in California doesn't really help straighten things out. The locals have funny ideas about what qualifies as Italian; don't even get me started.
Anyway, being that I had to follow the school's recipe for focaccia, I had to make it quite poofy and fluffy. Check.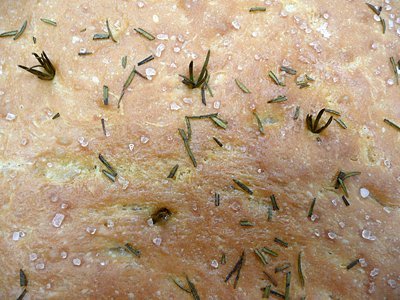 My version is less rich than others I've seen in class (olives, caramelized onions…), and I like it that way: just sea salt crystals and fresh rosemary.
With the cream puffs, I didn't use enough cream. I hadn't realized that they needed to be filled more and on top of that, once we set things out for the chefs to grade and left the lab, the heat deflated the cream and the tops ended up sitting on the puff bases. Oh, well…
But my boys always like what I bring home. The focaccia was partly eaten at dinner and partly frozen. We'll see how the freezing part works out. So far, it's been a mixed bag. Some baked items freeze wonderfully; others not so well. It's all a big experiment.
I know I've been silent for a while. Things have just been hectic and having both a lab class and an academic class this term has sucked up all my time. Next term I'm going to take only academic classes which means losing the group I've been with for the past three months, but I need to take a breather.
The new schedule should also mean that I'll be able to blog more regularly.