July 3rd, 2008, by Francesca
Finals are over and school is on summer break, a whole week off before my next classes: Baking and Pastries 1 and Math 202.
I really needed a few days without deadlines after the previous two weeks, what with the dental work, massive doses of antibiotics (ten days of unpleasant side effects aggravated by the ban of alcohol), and finals. And if that wasn't enough stress, my liquid/soft diet has to go on for a month. How come they didn't tell me that *before* the surgery? But all's well that ends well; I am back to my glass of red wine with dinner and enjoying being lazy. I had had unrealistic expectations of myself in terms of all that I would achieve this week, but it's okay to shift to a slower gear every now and then.
So, what's going on chez tantarobina? You mean, beside eating gelato and crème brûlée?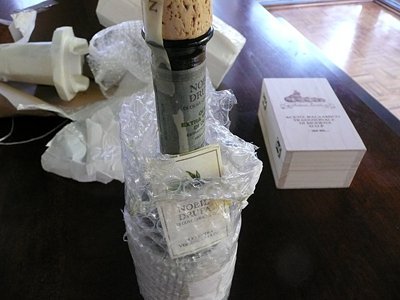 For starters, last week I received a care package from my mother – the first food package ever since I've been in California – containing a bottle of excellent olive oil and one of aceto balsamico tradizionale, the real thing. The combination has prompted a renewed interest in mixed salads and we've been having quick summer lunches with just mixed lettuce, heirloom tomatoes, various cheeses, bread and red wine. And really, if I don't touch the stove for another few days, I won't miss hot food. If you've never had good balsamic vinegar, you should add it to the list of things to do before you kick the bucket, along with eating white truffles, visiting Portugal, buy a winery, and all that.
Other than catching up on some non-school stuff and getting back to a web development project of our own (as opposed to work for hire) that's been neglected for too long, things have been pretty quiet around here. Fortunately, tomorrow we'll have a couple of guests and that'll liven things up.
Oh wait… we've had some interesting visitors already!
A mama raccoon and her two babies spent almost twenty minutes outside our French windows downstairs feeding on loquats fallen from a tree, playing with each other and having a grooming session.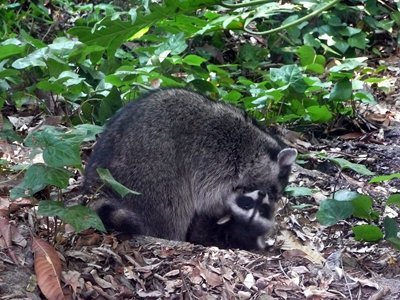 Raccoons are my favorite animals around here and it's always a treat to see them, especially at such an uncharacteristic time.
On the culinary front, I've been researching the perfect croissant recipe. Croissants are one of my weaknesses and I have to learn how to make them. Baking & Pastries 1 will include a croissant making day, and I sure hope they taste better than those in the school café. The recipe on the school's handouts includes lemon juice, an ingredient not mentioned in other recipes I've come across, including two versions of the famous Pierre Hermé croissants. Anyone has insider information or opinions on that?
Given that Pierre Hermé's croissants have been decreed the best in Paris, I am inclined to go with his recommendations… as soon as it's less hot and I can face the intense process involved in making those little love handle builders, that is.