July 11th, 2008, by Francesca
Not perfectly round, but I rather like the rugged look of my very first pizza.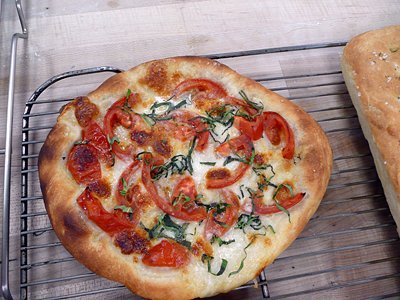 My focaccia dough trying to explode after I left it too long in the proofing box.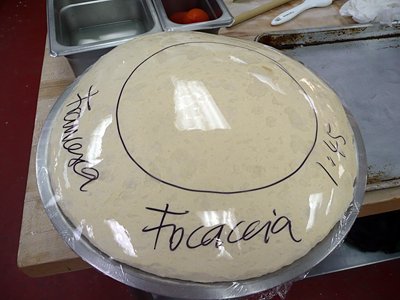 I am happy to report that there were no casualties. In fact the focaccia turned out okay, a bit too poofy but crusty on the outside, moist on the inside, and with good flavor.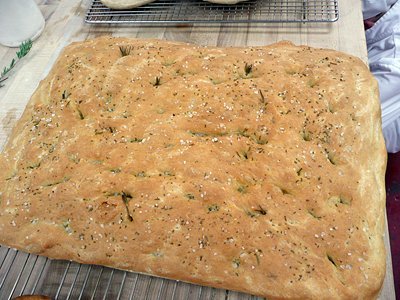 The whole wheat pitas are thicker than I am used to and different in texture because of the whole wheat flour in the mix. Tomorrow we'll try them with the hummus made by chef in class today. After eating pizza, focaccia and gelato tonight, we didn't have any room for more bread.
We made gelato alla crema from yet another recipe. I think this is our fourth batch, every time from a different recipe. Our excuse this time was that tomorrow is Ben's birthday and we had no ice-cream left in the freezer and clearly you can't have a birthday without gelato. This is our most successful batch so far, from an Italian book that my mother mailed us a few days ago. The next thing from that book – Ice Dream – will be sorbetto al vino rosso e fragole (red wine and strawberry sorbet). Doesn't that sound divine?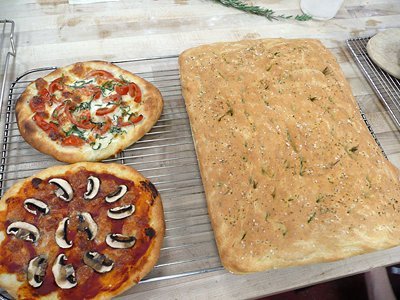 More than half of the focaccia ended up at our next-door neighbors' house, because willpower alone is not enough to fit more food in the fridge.
The leftover focaccia is now in the microwave oven, where it should be safe from you-know-who until tomorrow.