July 10th, 2008, by Francesca
and the living is easy… or at least easier than last term. In spite of having two classes instead of one (last term I didn't have to take any academics) and in spite of those classes being on two campuses, having no convenient parking available at either location, no A/C in our old car while temperatures are in the nineties and hundreds, me driving in the middle of the day, etc.… in spite of all that, I am enjoying my first week in Baking more than I had expected.
And the math class doesn't seem too bad either. Granted, it's early days so I may have to review my assessment, but things are looking good and our fridge and freezer are overflowing with baked goodies.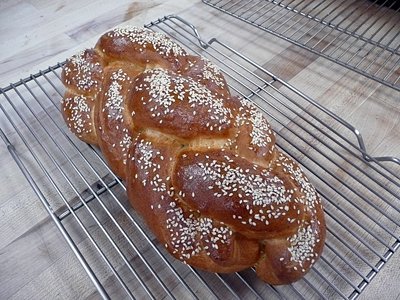 This term is all about baking bread and this is a summary of my first week in Baking & Pastries 1.
Monday: made French bread dough (overnight fermentation)
Tuesday:

baked baguettes + épi with the French bread dough
Made whole wheat dinner rolls

Wednesday:

Made Pan de mie and Challah
Made brioche dough (overnight fermentation)
Made yogurt starter for sourdough bread next week

Thursday:

Baked brioches à tête and Nanterre loaf from brioche dough
Made Amish style soft pretzels
Made bagels
Made pizza dough for tomorrow

Friday:

Will bake pizza
Will make focaccia
Will make whole wheat pita
There's no more room in the freezer and we are having breakfast for dinner. Tonight we had a rather strange dinner with pretzels, bagels and brioches, followed by Ben's latest sorbet creation. We started with lemon-vodka sorbet last week and now we are having lemon/lime sorbet with tequila, à la margarita. Hey, we like Mexican food and it's informing our experiments. If you spot typos in this post, blame it on the tequila. :)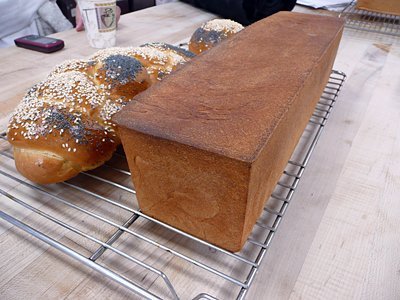 Did I mention that the whole household is enjoying this baking adventure? Tuesday night Pipie was sitting on the kitchen counter with his face covered in flour. He had gotten to the bag with the baguettes – sprinkled with a dry wash of pastry flour – but I was too tired to run for the camera.