June 13th, 2008, by Francesca
I'm doing research.
What, you don't believe me? It's not like I would *choose* to eat salame al cioccolato unless I had to. And let me tell you, this business of shooting food is harder than you'd think; the food keeps disappearing with every click of the camera. It's a mystery. Of course, with two cats in the house, there's always someone to blame.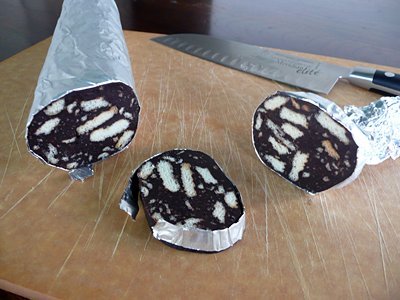 So, what am I doing making chocolate salame?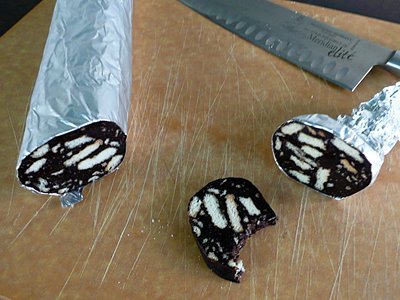 Yesterday, chef Boyd told us that today we'd be cooking in teams as a way of practicing our teamwork skills ahead of Buffet Day, next Thursday. Today's menu will be entirely different and we'll be cooking just for us, 30+ people instead of 150, but still, it's practice.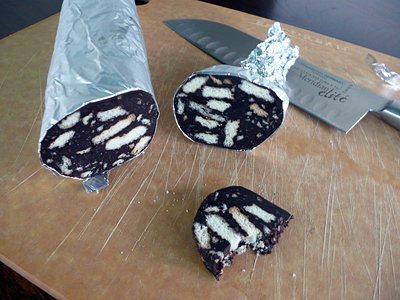 The menu is being handed down to us with the exception of dessert and I was one of few students who volunteered to make dessert. Since we are cooking rustic dishes (fried chicken and such) I thought I'd go to class with a simple, rustic dessert proposal for my team mates to try out and if they like it, we'll make it. I also expect that we'll be able to make at least two kinds of dessert, since salame al cioccolato is really easy.
If the calories don't scare you, I'll post the recipe.
And now I'd better make sure some of this salame makes it to class.