May 30th, 2008, by Francesca
In addition to the beef steak with Bordelaise sauce, yesterday we cooked chicken roulade. It was a hard day of intense cooking where we had to stay highly focused to finish all our dishes within the allotted time windows. At one point I thought I would not be able to deliver, but in the end I managed to present both dishes in time. It's all about planning and it's not easy – at least not for me – but I am getting better at it.
The chicken roulade starts with pounding a chicken breast until it's consistently thin. You have to be careful not to punch holes into it, though.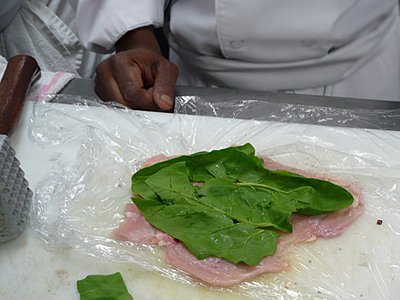 After pounding the chicken breast, you place spinach leaves on it.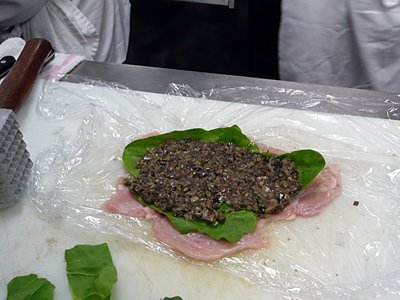 Then you spread mushroom Duxelle on the spinach. To make mushroom Duxelle you sweat some minced shallot in a pan and then add finely chopped button or cremini mushrooms until you eliminate all liquid and they start to color.
Next, you add a few strips of roasted red bell pepper (roasted directly on a burner until charred, then wrapped in plastic wrap for a while and peeled) and a couple of asparagus stalks (blanched, shocked in ice and dried).
If you havent' already done so, place the chicken and other ingredients on a piece of caul fat. Caul fat is the lining of a pig's stomach and is used to wrap meat. It looks a bit gross, but most of it dissolves during cooking.
Once you've wrapped your chicken roulade in caul fat, sear it in a hot pan starting with the seam down, to ensure that the roll doesn't fall apart. Then sear all around until the roulade is a light golden brown. At this point, put it in foil wrap, keeping it slightly open, and place it in the oven at 375º F for 20-25 min.
This is your roulade when it comes out of the oven, ready to be cut.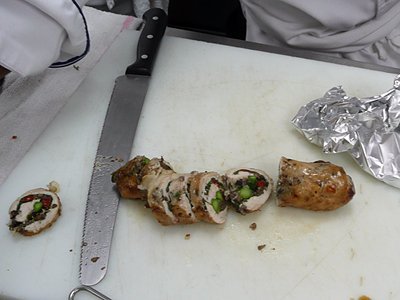 Here it's cut straight, but you can also cut it on the bias.
This is the plating sequence. First the Port wine sauce, a reduction of shallots and Port wine, strained and put back in the pan adding brown veal stock until it reaches the desired consistency.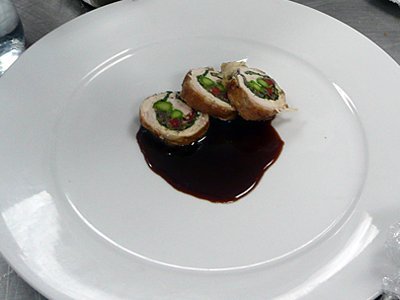 Then a few slices of the chicken roulade. By the way, this is meant to be an appetizer, not an entrée, which explains the small serving size.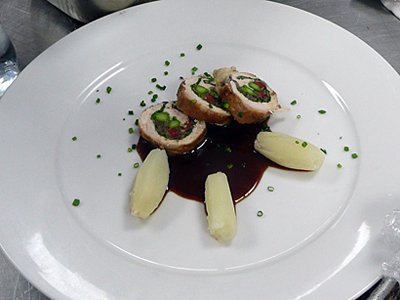 A few pommes vapeur (steamed potato tournées) and voilà, the dish is done. The picture above is the chef's demo.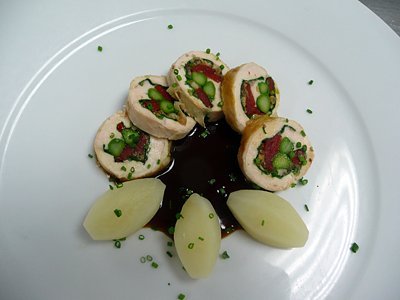 And the one below is my own. My potato tournés were a bit underdone, but the roulade was just right. :)