May 26th, 2008, by Francesca
Ours is a geek household and we love gadgets. In recent weeks we've been shopping for kitchen toys, er… tools, so I can practice at home some of the dishes I cook in class. I am not talking about those unitaskers frowned upon by Alton Brown; who needs a pineapple slicer or an egg separator? I am talking about real tools that can be used for several preparations and really make life easier in the kitchen.
Well, with the possible exception of this one, but can you blame me? Shouldn't an aspiring cook be allowed to flame her crème brûlée? I haven't gotten around to try this yet because I've been cooking other things and even with a long weekend there never seems to be enough time to get everything done.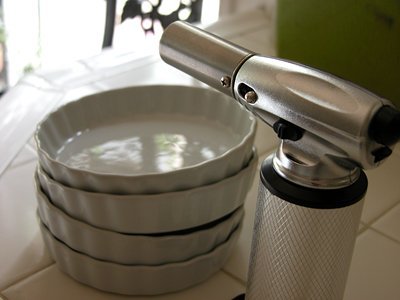 This little whisk is great for sauces. Not that I care for those classic French sauces, but I bought this one before finals last term to practice Hollandaise and Béarnaise. And after finals I used it to make my first mayo.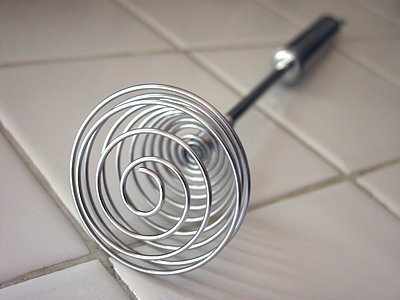 This strainer is a chinois. We use it almost daily in class to strain clarified butter, stock, consommé, ground pepper, you name it… if you want something strained as finely as possible a chinois is your best choice. For consommé we even put a couple of coffee filters inside it.
It looks a lot like a China cap, but its mesh is finer. This one is from Italy and I bought it at Sur La Table. There were two sizes, this being the the smaller of the two.
The pestle is a different brand but fits perfectly.
By the end of the year, our kitchen should be well equipped. :)