April 6th, 2008, by Francesca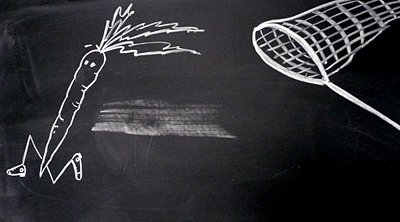 Before you can eat your food, you must of course find it. So, here's a couple of useful phrases for the next time you find yourself in Italy on an empty stomach.
Scusi, dov'è il mercato?
Excuse me, where is the market?
C'è un ristorante qui vicino?
Is there a restaurant nearby?
Hai fame?
Are you hungry?
Si, ho fame.
Yes, I'm hungry.
Andiamo a mangiare.
Let's go eat.
Andiamo a prendere un caffè.
Let's go get an espresso.
A few words to help you understand where something is located.
And some examples of how to use them:
Dopo il semaforo, giri (gira) a destra.
After the traffic light, turn right.
Il ristorante è sulla sinistra, di fronte alla banca.
The restaurant is on the left, in front of the bank.
Subito dopo il Bancomat.
Right after the ATM.
And when you get to the restaurant:
Scusi, dov'è il bagno?
Excuse me, where is the bathroom?
If you speak American English, don't try to translate "restroom" into Italian. You could end up saying something close to "retirement home", where you may find some interesting characters, but no gourmet food.
Just as in English, some expressions are contractions and the apostrophe indicates where something has been removed. [Words between brackets show the non-contracted forms.]
And some expressions simply cannot be translated literally. [Words between brackets show word-by-word translations.]
Giri a destra = turn right.
"Giri" is the formal expression; "gira" is informal. To be on the safe side, use informal expressions only with young people and close friends.
By now, you should have noticed that personal pronouns are not as pervasive in Italian as they are in English. In fact, they can generally be omitted. The reason is that, for most tenses, the subject of the verb is already identified by the verb ending, therefore making the personal pronoun redundant. Take for instance the present tense of the verb mangiare (to eat). See how every person has a distinct ending?
That's it for today. Check back in a couple of days for the audio files and, if you are curious about what's next, keep an eye on the table of content (permanent "toc" link in the top right menu).