March 17th, 2008, by Francesca
What better way to start my food blog than with one of my favorite things — fresh herbs?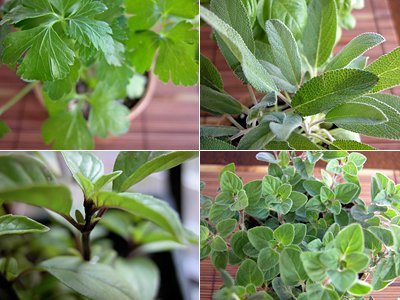 Documenting my year in culinary school will be the main subject of
Tanta Robina
, at least in the beginning, but I also want to use this space to write down my thoughts on food, ingredients, and anything related to cooking and eating. Because, for me, cooking is all about the eating.
And I am not alone in this; see how Pipie is nibbling my Italian parsley there in the back of the photo? He may not be a connaisseur, but you gotta hand it to him: he is experimental. I want to be more like him from now on.
The herbs I use the most are: Italian parsley, basil, rosemary, thyme, sage, and oregano. Keeping live plants as opposed to buying cut bunches offers me two advantages:
— I always have the freshest possible herbs, and
— the smallest, most tender leaves.
For some reason, the supermarkets here in Los Angeles carry mostly herbs on hormones, with gigantic, hard leaves that are unpleasant to eat. The local basil and parsley are especially oversized for my taste and the basil that comes in plastic containers often has chewy, leathery leaves that may be good for cooking, but have no place in a plate of
insalata caprese
.
So, I hope you'll keep me company as I go through the Culinary Arts program at the
California School of Culinary Arts
(CSCA) and discover a new world of foods and cooking techniques. I am particularly looking forward to the International Cuisine module, although that will be towards the end of the program.
Just be patient with the inevitable glitches of the first few weeks, as I am using new blogging software and figuring things out as I go.
Oh, and Happy St. Patrick's Day!